Trainer's Corner : Materials by Asherman Associates
Books and training materials on negotiation skill building, trust, cultural diversity, working in project teams and training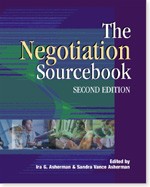 THE NEGOTIATION SOURCEBOOK (2nd ed.) by Ira and Sandy Asherman
The Negotiation Sourcebook (2nd ed.) is a 44-article compilation on negotiation theory and practice. Organized topically, this volume is divided into eight sections: theoretical frameworks, persuasion, skill building, gender, culture, difficult negotiators, and teams. It also includes a section on common negotiations such as buying a car or asking for a raise. The Sourcebook is ideal for individual and classroom use.

The cost is $44.95, plus tax and shipping.
475 pp / Paperback / Published by HRD Press / 2001
Please order from HRD press at http://www.hrdpress.com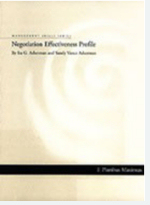 NEGOTIATION EFFECTIVENESS PROFILE
(2nd ed.) by Ira and Sandy Asherman
Use the Negotiation Effectiveness Profile (2nd ed.) to help test takers gain valuable insight into their negotiation strengths and weaknesses. Participants complete a 36-question survey on six steps crucial to successful negotiations: planning, trust, issue identification, communication, problem solving, and solution development. The workbook also includes an action planning segment.

The cost is $8.95, plus tax and shipping. 26 pp / Published / Published by E Pluribus Maximus/ 2001
To order hard copies please visit: www.epluribusmaximus.com

NEW! 360° Online Version. Participants complete the 360° online version on our website. Published by E Pluribus Maximus / 2001.

To order the online version, get pricing information, or to discuss your specific needs, email Noreen Fennel at Noreen@Epluribusmaximus.com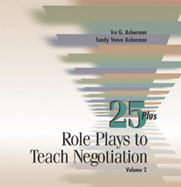 25 PLUS ROLE PLAYS TO TEACH NEGOTIATION (Vol. 2)
by Ira and Sandy Asherman (eds.)

If you're a management trainer or development specialist looking for role plays, this book is a must.

25 Role Plays to Teach Negotiation (Vol. 2) includes 25 new role plays and is organized into two broad sections: Internal Negotiations, covering negotiations with co-workers and External Negotiations, which focuses on negotiations with vendors and contractors.

Included on CD disk are the original 25 role plays from our first volume, the popular 25 Role Plays to Teach Negotiation (Vol. 1)

Each role play is premised on three critical concepts:
Successful negotiation is not an adversarial process, but a collaborative framework for creative problem solving.
The needs and interests of both negotiating parties must be addressed if there is to be a long-term solution.
Negotiation is an ongoing process, and today's negotiation will affect the long-term relationship between the parties.
The role plays are drawn from a variety of real life corporate settings including the chemical, pharmaceutical, retail, and publishing industries to prepare you for on-the-job situations.

From a review of 25 Role Plays (Vol. 1)

"Roles are described with enough information and detail for even the most 'stage shy' participant to get into the act. By the end ... the player is guaranteed to feel strongly about his or her position and ready to argue for what is 'right'."

25 Plus Role Plays to Teach Negotiation (Vol. 2) is $99.95, plus tax and shipping.
Paperback / Published by HRD Press / 2004
Please order from HRD Press at http://www.hrdpress.com

FIFTY ACTIVITIES TO TEACH NEGOTIATION
by Ira Asherman

Find that extra activity Click here to order.

50 Plus Activities to Teach Negotiation contains a variety of fully reproducible exercises to teach and reinforce the skills necessary to be a successful negotiator. Each activity is described in detail, and includes steps to follow, resources and lecture notes for the trainer. The exercises are designed to meet the needs of both the inexperienced and experienced trainer.

Training Objectives:
Evaluate participants' current negotiation skills
Demonstrate behaviors characteristic of successful negotiators
Find creative new ways to approach problems
Assess how participants deal with conflict
Explore the boundary role concept and its implications
Activities Covered:
Planning a negotiation
Creative thinking
Negotiation styles
Assertiveness
Questioning techniques
Handling difficult people
Sales negotiation
Training Methods:
Exercises
Self-scoring surveys
Negotiation transcripts
Case Studies
The cost is $139.95, plus tax and shipping.
300 pp / 3-Ring Binder / Published by HRD Press / 1996
Please order from HRD Press at http://www.hrdpress.com
TEAM EFFECTIVENESS SURVEY
Available Online!
by Ira and Sandy Asherman

Need to assess a team?

The Asherman Team Effectiveness Survey is anonymously completed by members of an intact project team. The survey contains items relating to the team leader, the project manager, communication patterns, conflict, trust and timelines, geographically dispersed teams and the impact of cultural differences and language on team performance. The survey can be tailored to meet the needs of individual companies.

ONLINE / Published by E Pluribus Maximus / 2004

For pricing information and/or to view the survey and sample reports, email: Noreen@Epluribusmaximus.com