WINTER 2015
This edition of our newsletter contains a new section entitled "Research Note". Research notes will become standard in all upcoming newsletters. They will reflect new research that we read about and at times, will be a brief reminder of research that was highlighted in earlier newsletters or discussed during workshops.

In addition to the Research Note, we're including a case study about a negotiation that Sandy and I were involved in as consultants.

RESEARCH NOTE #1: Communication
Establishing clear communication during a negotiation is not always easy. Frequently, the parties end up with different perceptions of what has been said. The essential question is, why does this happen?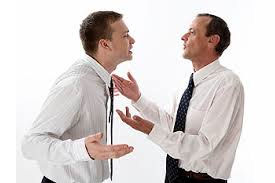 Meetings where serious negotiations are taking place are frequently filled with tension and uncertainty. To quote, in another context, from the Harvard Management Communication Newsletter: "The more uncertain and pressured the situation, the more likely it is that employees won't be able to process everything you say correctly. Complicating matters further, managers are also apt not to communicate their thoughts adequately when they are under pressure."

This is particularly true of negotiation. The question we all face is how to reduce the uncertainty and create a climate conducive to clear and open communication. Ask yourself, are you doing enough climate-setting and issue identification, and what can you do prior to the negotiation to reduce the tension and increase the possibility of clear communication.

A pre-negotiation exchange of issues can go a long way towards reducing tension. It allows people to prepare, so that they are not surprised when the negotiation begins. During the negotiation, listen more, talk less and, at the conclusion, make sure to summarize.
CASE STUDY: The Telephone Negotiation
A client was recently involved in a telephone negotiation with an individual who was interested in purchasing materials for a new sales training program he was developing. Our client is based in the United States and the other party is in Europe and the parties had never met.
After several e-mails and an extended telephone conversation, discussing what was needed, our client quoted a price. This was done in a second phone conversation, and followed up with an e-mail. The price was clearly more than the other party wanted to spend, and he came back with a significantly lower offer, much lower than our client could accept.
After indicating that the counter offer was much too low and trying to restructure the deal, he went back to redefine the issues, so as to ensure he understood exactly what the other person wanted to purchase. After some discussion, it became clear that the other individual's needs had changed. What he now wanted was much more limited in scope. Once the issues were redefined, they both agreed that what our client was selling was much more than the other party needed.
Following additional discussion, they both realized that they should not do this deal, but to stay in contact, with the hope that they might do business in the future. Our client followed up with a brief letter, indicating that he enjoyed talking with the other party and hoped they might do business in the future. A similar letter was sent by the other party.
Lesson Learned:
By clearly defining what he hopes-to-, intends-to- and must-get, the client fully understood that the financial terms were not anywhere near what he felt was appropriate. This was not a deal that made financial sense. It reconfirmed the importance of issue identification and that sometimes you may need to re-clarify the issues. As a result, he did not make a bad deal. However, maintaining the relationship was still important and if this person's business grows, he may still sell him materials in the future.
Note:
If you have any case studies you would be willing to share with others, please call Sandy or Ira at 212.243.0782 or e-mail Ira at ira@asherman.com.

PROGRAM NOTES
• Barry Sagotsky, who has taken over the workshop portion of our business, has conducted our first ever program in India.
• Conducting Difficult Conversations, a program developed by our associates, Jack Lerner and Jay Cherney, has recently been licensed to the Japanese affiliate of one of our clients. Jack and Jay are also available to conduct this one-day program on site. The program is an ideal follow-up to the Successful Negotiator program.

RECOMMENDATION
If you would like to see an excellent negotiation movie, then get the Danish movie "A Hijacking." It is a movie that is all negotiation. The focus is on a Danish ship that has been hijacked by a group of Somali pirates. The negotiation is between the pirates and the company president. As the New York Times said "Its power accumulates slowly and subtly, with the threat of violence hanging in the air and the hope of a solution hovering just over the horizon." While this is not an issue any of us is likely to face it clearly illustrates the importance of your opening, the need not to rush and to clearly have a long term strategy.

If you watch the film, we would be interested in your reactions.


---
Contact Asherman Associates at 212-243-0782 or email ira@sahermen.com